Uses of Distribution Board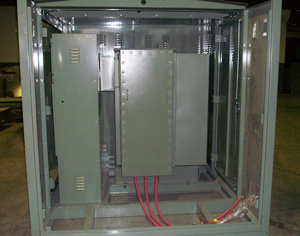 Design and Manufacturing Capabilities:

Load centers / distribution panels (BS, NEMA Type)
Low Voltage Distribution Boards (BS, IEC, NEMA Type PB-30 and PB-40)
Low Voltage Switch Boards (BS, IEC, NEMA Type 50-R and 100-R)
AC/DC panels for SEC up to 380KV Substations
Lighting Control Panels for SEC Substations
Metering panels
Mini Pillar 400A, 800A
Low Voltage Feeder Pillar
1600A Fused Distribution (as per Saudi Electricity Co. East Specification)
Switch Rack, Indoor and Outdoor (Aramco Requirements)
Busbar Chambers
Package Substation
L.V. Motor Control Center
Instrument and Process Control Panels
Relay Panels
Our Manufacturing objectives:

In HAWA EPBF, we manufacture Quality products by standardizations in drawings, using latest CNC machines in production to achieve:

Perfection in Quality
Flexibility for any future modification.
Reliability
Easy Serviceability
Safety
Manufacturing Facilities:

We are equipped with state of the art manufacturing facilities equipped with CNC enabled presses etc. We maintain the highest standards in quality management. The total working area is 18000 sq. Mt. Our factory has the latest state of art manufacturing facilities such as Turret Punch Press (AMADA), CNC Press Brake (AMADA), Hydraulic bus bar Punching and Bending Machine.

We are fully equipped with the latest version of sheet metal software and the latest AutoCAD to provide the total engineering solutions.

The surface treatment of the parts under goes the rigorous process of Seven Tank i.e., Hot degreasing, Cold water rinsing, Hot de rusting, Cold water rinsing, Hot Zinc Phosphate, Coldwater rinsing and Hot Zinc passivation, before being electrostatically powder coated in the dust free chamber. We have in-house powder coating facility to improve the quality of all enclosures. Moreover we have in-house TIN plating facility for copper busbar.