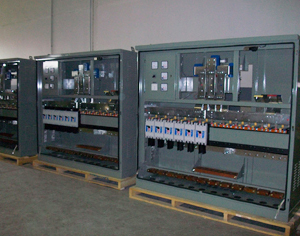 We are committed to supply Quality Electrical Panel Boards and Enclosures through continual improvement of Quality Management system by involving all concerned people of the Organization and enhancing Customer Satisfaction.
• It is HAWA EPBF policy to manufacture High Quality Panel Boards and Control panels designed as per NEMA, IS & IEC Standards, meeting Customer's requirement.
• This is ensured by using the best Quality Raw Materials/ Switchgear, sourced directly from reputed manufacturers or their authorized dealers.
• To ensure the Quality of the Switchboards, Inspection/ Verification/ Testing is carried out on all Incoming Material and during all stages of manufacture.
• Routine functional tests are carried out on the Switchboards to verify that they meet the Customer's requirements.
• All the activities follow a well laid out schedule to ensure the completion of the Switchboards within the stipulated time frame.
• A quality management system, complying to ISO 9001: 2008 is in force to ensure that the above aspects are adhered to.